Ajinkya Rahane: People feel that Ajinkya Rahane made it to the Test team because of three IPL innings: Ravi Shastri | cricket news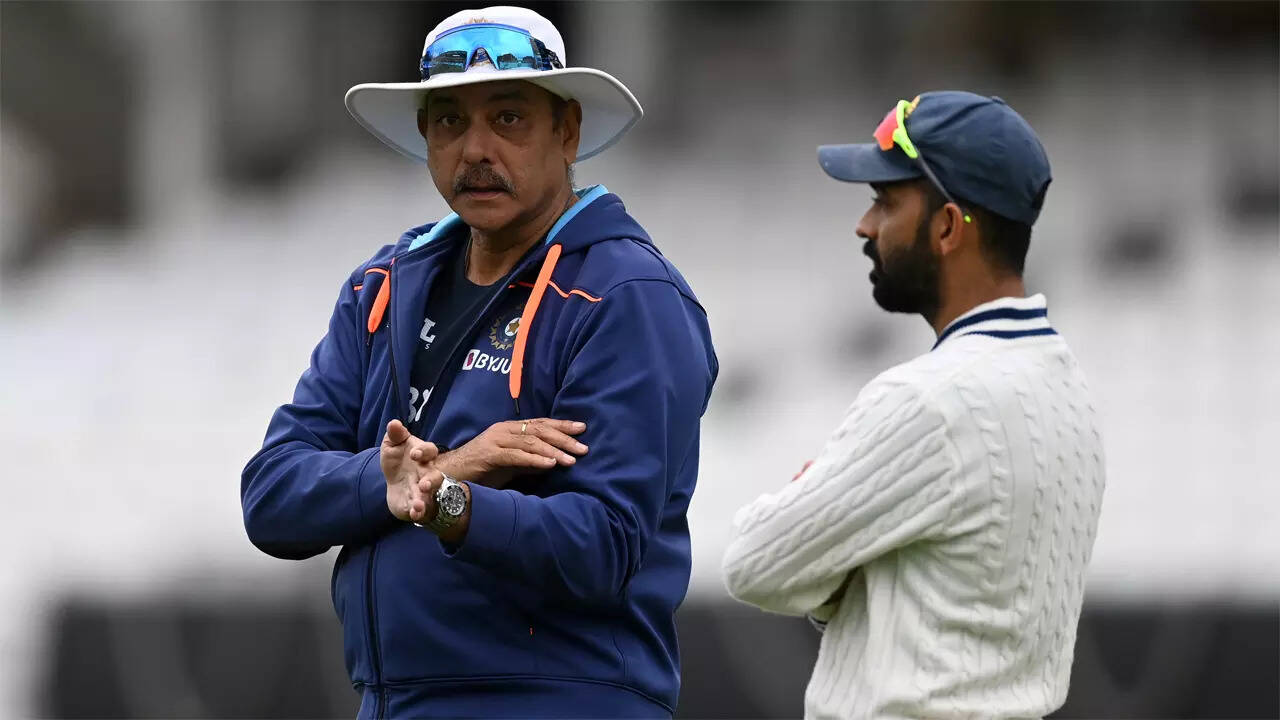 New Delhi: At the forefront IPL 2023,
Ajinkya Rahane
Should not have been in the plans of the national selectors and it looked like the batsman had reached the receiving end.
But Rahane reinvented himself in the ongoing IPL season and emerged as one of the success stories of the tournament with his breathtaking knock and scored 224 runs at an astonishing strike rate of 189.83.
Rahane has now made his way into the Indian squad for the World Test Championship final against Australia with a string of stellar performances this season.
former head coach
Ravi Shastri
Looks like Rahane was destined to make it to the Indian team WTC Final Once shreyas iyer Was ruled out due to a lower-back stress fracture.
The WTC final will be played at The Oval in London from June 7 to 11.
Shastri, who coached the Indian team for six out of seven years between 2014 and 2021, sarcastically remarked that those who assumed that the former India captain would have earned a place in the Test team on the basis of three IPL innings "Must have been on holiday when he scored over 600 runs in domestic cricket."
"I am happy that he has made it into the team. He has batted beautifully in these two-three games that he has played in the IPL, he is looking in great form. And let's not forget the experience he has. At the time Shreyas Iyer was injured, you had to look in that direction," Shastri told ESPNcricinfo.
Such is Rahane's pedigree that he always had a shot considering his contribution as a captain to India's biggest Test win overseas when the team wins in Australia in 2021.
"Absolutely, it's a one-time big game like the Super Bowl, and you need your experienced player. Don't forget that two and a half years ago, the guy won a Test series in Australia. He was the captain when Virat went ( on paternity leave) and worked a sterling job.
Shastri described Rahane's return as a reward for his impressive domestic performances.
"People think he has played just three IPL games and is therefore out of favor. They must have been on leave for six months when he was playing first-class cricket. They must have been somewhere in the woods with no contact Was." When you go on a six-month break, you miss out on those 600 runs."
Shastri said that Rahane's comeback is also somewhat similar to that of another legend, Cheteshwar Pujara, who made his case for Sussex in county cricket by the truckload.
"People forget that hundred at the MCG, the way he (Rahane) played, and the fact that he went back to the grind. You saw what he did with Pujara, playing domestic cricket, playing county cricket. Went back to the grind." Just got that number of runs under his belt, then came back to Test cricket and performed.
Same with Rahane, let's hope that experience comes in handy.
Rahane has scored 61 runs in 27 balls Mumbai Indians And a 29-ball 71 against KKR and Shatshri admitted that his current form has helped fellow Mumbaikar as well.
"Oh, a lot, because the memories are fresh. Domestic cricket was over two months ago. People can forget it, even the selectors. Suddenly you come on and play the kind of innings where you are comfortable Let's see, timing is good, footwork is good, confidence is good, that definitely helps."
"Coaches should be invited for selection meetings"
The BCCI constitution does not mandate a national coach to attend selection meetings and only the captain can attend, but without voting rights.
Asked about team selection during his tenure, Shastri said: "I have zero direct experience (of attending selection meetings). In the seven years I was part of the team, I have never been to a selection meeting. I wasn't even invited." I think in the long run, yes (a coach should be invited)."
Though he did not name anyone, Shastri took a jibe at some former officials who he feels attended selection meetings unconstitutionally.
Shastri has time and again expressed his dislike for a former BCCI office-bearer and has used every platform he can to mock their "enmity".
"From the information I have got, there were a lot of people (in the meetings), in the last three-four years, inside the selection meetings, there should not have been there, were against the constitution, but were on the pitch."
Shastri said it is always important for a coach to know what the selectors are thinking.
"You spend a lot of time with the boys, it's important, not just in a voting capacity, but what the selectors are thinking, what their train of thought is.
"And then deciding what might be right for the side. I have zero idea how it starts, how it ends, who's in the meeting."
The former India all-rounder said that he deliberately stayed away to gain the confidence of the players.
Shastri said, "I needed the confidence of the player." "If a player knows that I am a selector or that I can influence the selector/chairman of the committee, will he open up to me?
"Will he trust me as much? There may be certain people who will come and still be open and honest, there may be certain people who don't want to, and I don't blame them because they may have some Reservation."
"From my point of view, that's why I thought it's best to stay away, but in the long run, especially when a team is in a rebuilding phase, it's extremely important that a coach who spends a lot of time with the players is in the confines of the dressing room." Might give some important information."
(With PTI inputs)