I don't think Rohit Sharma should take rest from IPL: Mumbai Indians coach Mark Boucher | cricket news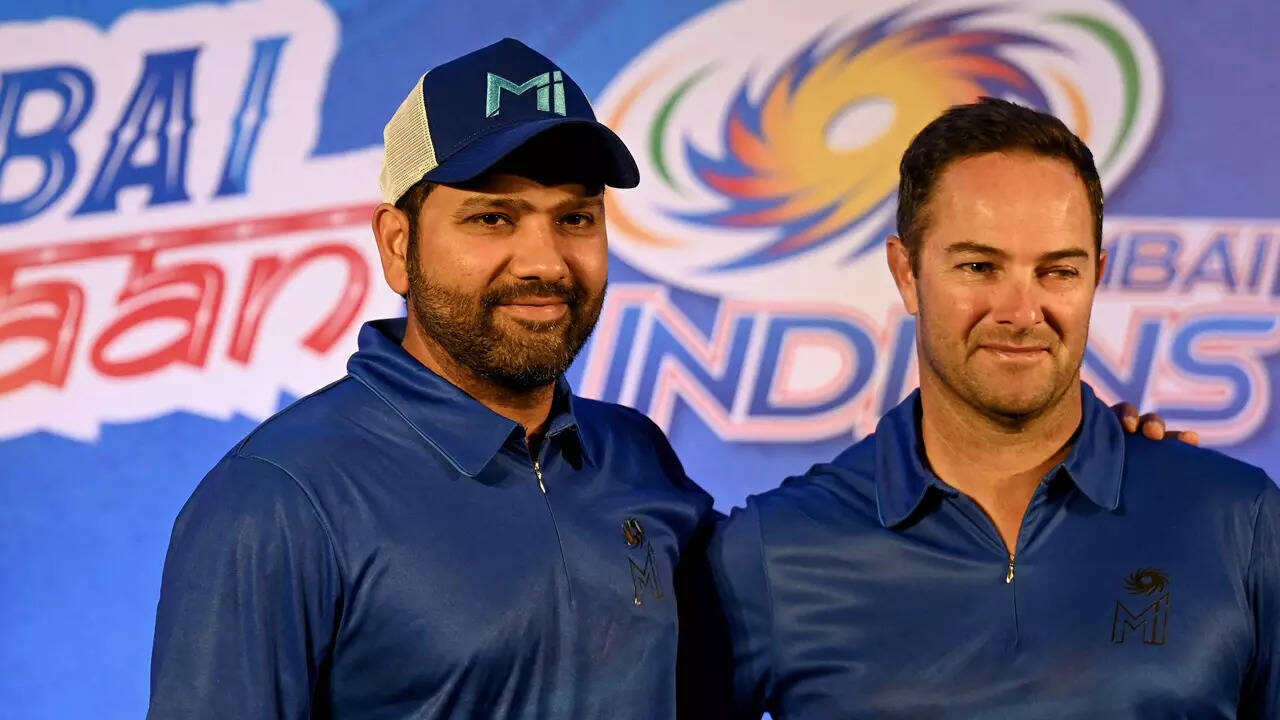 New Delhi:
Mumbai Indians
head coach
Mark Boucher
said the captain of the team on Saturday
Rohit Sharma
should not take rest from running
Indian Premier League
Amid demands to keep it fresh for the upcoming World Test Championship final.
Boucher, however, admitted that it was not his decision while Rohit has not yet asked for rest.
Rohit has featured regularly in a mediocre campaign for MI this year, with the five-time winners currently halfway through in eighth place and needing to do a lot to move up the standings.
batting giants Sunil Gavkasar Recently suggested that MI and India skipper Rohit should take a break from IPL to keep himself fresh for the WTC final against Australia from June 7-11 at The Oval in London.
"No, I don't think he should rest. It's not my call. Obviously, we want Rohit to play because he is a very good player and a leader," Boucher told the media ahead of the match against Mumbai Indians. is also." Rajasthan Royals here on Sunday.
"If it's best for Rohit, and he comes to me and says 'you know, I need a break' then yes, we will address it, and I will consider that. He hasn't done that. " So yes at the moment, if he is available to play, he will play," Boucher said.
Boucher accepted Mumbai Indians After conceding 96 runs in the last five overs against Punjab Kings and conceding 70 runs in four overs against Gujarat Titans, have gone back to the drawing board to discuss their death overs bowling after losing both the matches.
1,11
IPL 2023: Misfiring of Mumbai Indians against Rajasthan Royals
"The first game, if we look at it, I talked about dominating most of it rather than that short period. We repeated that in the second game, which is something that if it happens once it A mistake but if it happens twice, it is something we need to address.
"We've addressed it in meetings, there are a lot of different ideas about how we're going to try and not make this happen again," he said.
MI coach confirms Jofra Archer has gone to Belgium for 'minor surgery'.
He said, "Yes, he was (in Belgium for surgery). I believe it was minor surgery. I think he was gone for a day. As far as I know, Joff available for."
Rajasthan Royals fast bowlers Trent BoultReleased from New Zealand's central contract last year, which gave him a chance to play in several other leagues across the world, said he was looking forward to playing in the upcoming ODI World Cup in India.
"Of course, (I'm) looking forward to playing in the ODI World Cup – it's one of the biggest events on the calendar. My only focus at the moment is the IPL and if things go (well) I'm 100 per cent I want to be there," Boult said.
The left-arm New Zealand bowler praised the young batsmen of Rajasthan Royals Yashasvi Jaiswal And Dhruv Jurel for his brilliant batting this IPL.
"Those guys are just confident. They're realistic, they go out and play their natural game. It's been great to be here early and I've seen how much hard work they put in before the IPL started."
"He played with freedom and played some great innings. Yashasvi is an incredible find and one to keep an eye on for India as well – he's already played some great innings."
Bolt also told about the captain of Royals sanju samson As one of India's best batsmen and a great thinker of the game.
He said that he wanted to be aggressive with the new ball which resulted in him getting a lot of wickets early in the innings.
"I'm just trying to pitch the ball. There's a bit of swing all around and the Wankhede (Stadium) is a place I've enjoyed bowling in the past. I just try to keep it simple, try to be aggressive. I try." as possible.
"It's all a race. There have been some great games so far and (we're) only halfway there. Every team is pushing for those eight or nine wins to hopefully finish in the top two but we playing it." -by-game."
After Lucknow Super Giants crossed the 250-run mark against Punjab Kings on Friday, the Kiwi pacer said he would like some rules to help the bowlers as well.
He said, 'When we saw 200 runs, it was amazing and now 250 runs are within reach. Who knows about 300?'
"Those subtle rule changes that keep popping up, I wouldn't mind a few of them to favor the bowlers in some cases. The game has been so good to be super sub with the bat, it's effectively team Lets chase down another batsman. These are the scores and it is no surprise that we are seeing such huge scores at the moment," he said.
(With inputs from PTI)