MS Dhoni regrets conceding too many runs to Rajasthan Royals in the powerplay. cricket news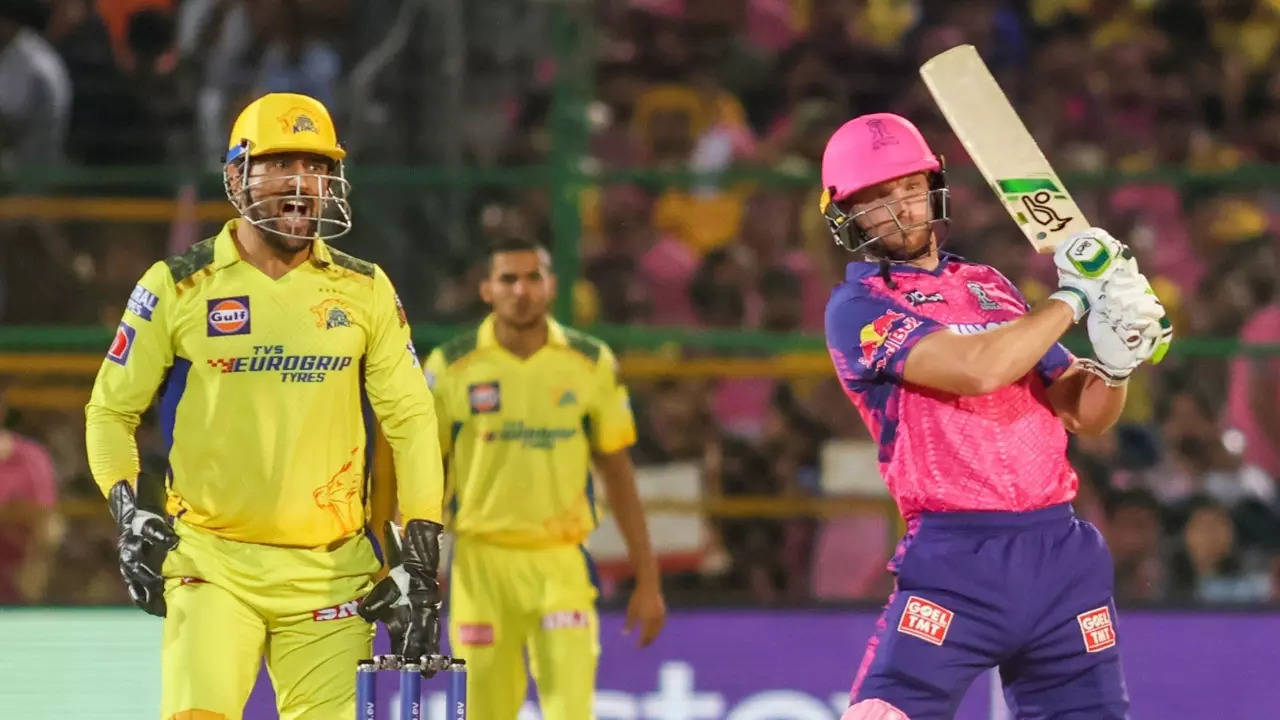 Rajasthan Royals secured the top spot
In IPL 2023 points table with their wins
Chennai Super Kings
in Jaipur on Thursday, and the Captain's visit
M S Dhoni
Giving away too many runs in the powerplay was the primary reason for his team's defeat.
Dhoni said after CSK's 32-run defeat, "They scored a little too much across the board. We gave away too many runs in the first six. Also, the wicket was very good to bat on."
Put in to bat, RR got off to a great start Yashasvi Jaiswal (77 off 43) and Jos Buttler (27 off 21) shared an 86-run partnership in 8.2 overs, including 64 runs in the first six overs.
Dhoni said, "We had to assess what is a good length, as captain you tell them (bowlers), but initially we gave a few boundaries and after that you are always playing catch-up."
"The bowlers bowled well in the middle overs but a lot of edges went for boundaries, at least 5-6 went for them, and it made an impact. They were par-plus and we didn't start well in the powerplay," he said. Could." off the bat."
Dhoni praised Jaiswal Dhruv Jurelwho scored 34 off 15 balls towards the end for his efforts.
"Yashasvi batted really well, it was important to go after the bowlers and take calculated risks. Towards the end of the innings, Jurel batted well but I think that first six where it got away from us," he Said.
RR vs CSK: Rajasthan Royals beat Chennai Super Kings by 32 runs. IPL 2023
Sri Lankan fast bowler Mathisha Pathirana conceded 48 runs in four overs on Thursday but was defended by Dhoni.
"I thought Pathirana's bowling was good; he didn't bowl badly. I think the scorecard doesn't reflect how well he bowled."
Dhoni, who is probably playing his last IPL, also recalled his fond memories of the venue.
"It's a very special venue, my first ODI hundred in Vizag took me 10 matches but the 183 I scored here got me another year. It's great to be back here," he said.
Winning captain Sanju Samson praised the aggressive batting of Jaiswal, Jurel and Devdutt Padikkal.
"It's a win that the team and the dugout really wanted. The way young Jaiswal, Devdutt, Jurel batted, it was outstanding. The attack, attack and attack mentality is something we will continue to promote in the dressing room. "
Credit goes to the team management and support staff (for working with players like Jaiswal) who put in a lot of hard work at the academy. There is a lot of work behind his success. Proud of it."
CSK's next match will be against Punjab Kings on Sunday, April 30, in Chennai, while Rajasthan will visit Mumbai Indians on the same day.
(with agency inputs)