This tournament wouldn't have been possible without…': Mohammed Siraj after Asia Cup victory | Cricket News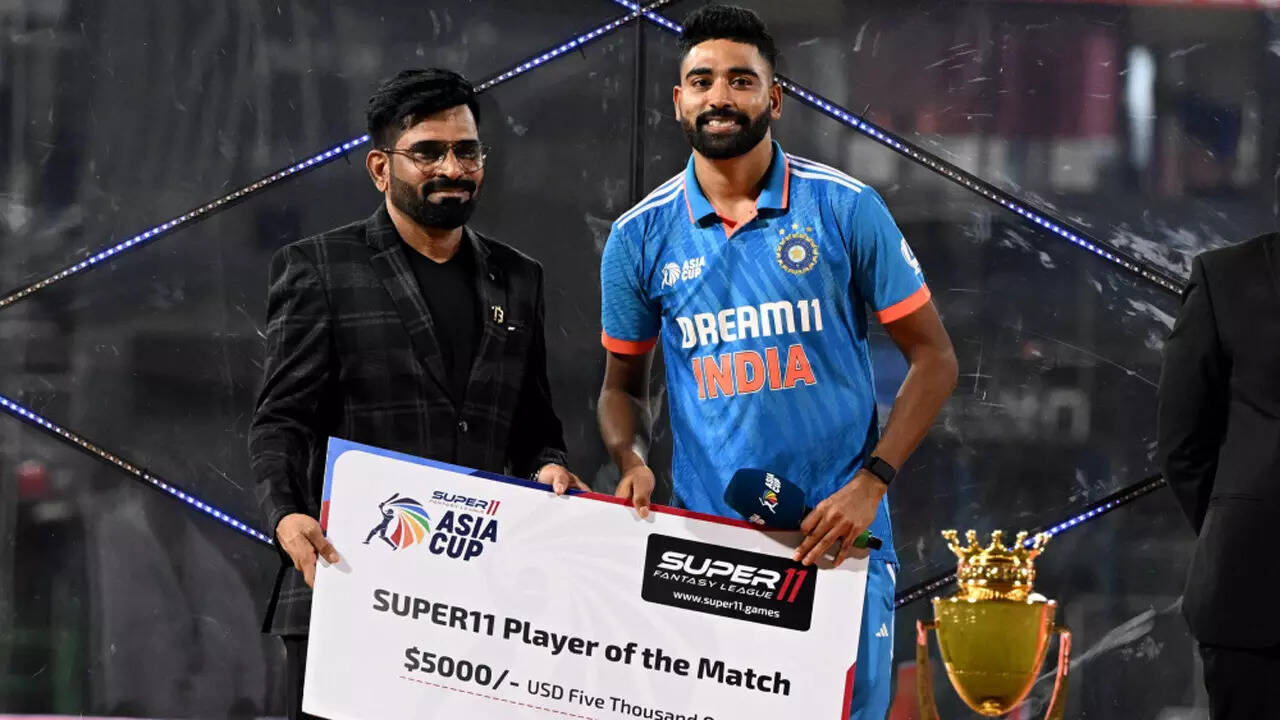 NEW DELHI: Star Indian pacer Mohammed Siraj, who was named player-of-the-match for his sensational bowling in the Asia Cup final, on Sunday gave full credit to Lankan groundsmen for making this tournament a huge success.
In a nice gesture, Siraj donated his player-of-the-match cash award of $5,000 to the ground staff who worked tirelessly through the rain-hit Asia Cup.
"This cash prize goes to the groundsmen. They deserve it fully, this tournament wouldn't have been possible without them," Siraj said at the post-match presentation in Colombo after India's crushing 10-wicket win over Sri Lanka in the final.
Siraj delivered a devastating bowling spell in the final match, where he managed to capture four wickets in the fourth over. This remarkable performance contributed significantly to his career-best figures of 6/21.
His exceptional bowling helped India dismiss Sri Lanka for a meagre total of just 50 runs in the final match, showcasing his prowess as a bowler and playing a crucial role in India's victory.
"No biryani here. Have been bowling well for a long time. Was missing the edges earlier. But I found them today. The wicket was seaming earlier, but there was a swing today," said Siraj.
"Thought that I will bowl fuller because of the swing. When there's good bonding between fast bowlers, it's helpful for the team. I was thinking it would be great if I could stop the boundary. My best spell," Siraj added.
Earlier on the day, Jay Shah, the chief of the Asian Cricket Council (ACC), also recognised the efforts of the groundsmen in Kandy and Colombo by announcing a cash reward of $50,000. This gesture was a token of acknowledgment for their relentless efforts in preparing and maintaining the playing fields under challenging conditions during the Asia Cup.
The Sri Lankan leg of the Asia Cup was marred by rain, with almost all the matches being affected by adverse weather. Even the final match on Sunday experienced a delayed start due to a wet outfield. Despite these challenges, the groundsman's dedication and hard work were crucial in ensuring that the tournament could proceed as smoothly as possible.
Shah's words of praise for the fast bowlers and their ability to create pressure and take wickets demonstrated the importance of teamwork and partnerships within the cricketing world. The effort of the entire team, including bowlers and groundsmen, played a vital role in the success of the tournament.