What Bollywood said about Varun Dhawan, Janhvi Kapoor's Bawaal
A special screening of Varun Dhawan and Janhvi Kapoor's film Bawaal was held on Wednesday in Mumbai where Karan Johar, Arjun Kapoor, Varun Sharma, Aayush Sharma, Rakulpreet Singh, Jacky Bhagnani, and several others were present.
Finally, the celeb review for Nitish Tiwari's film is out. While Arjun Kapoor called Bawaal interesting, Karan Johar said it is an original love story. The Varun Dhawan-Janhvi Kapoor-starrer will be released on July 21 on an OTT platform. After several changes, the makers of Bawaal have decided to release the film on Amazon Prime Video.
Arjun Kapoor: Forces to think about life
Many stars, including Arjun Kapoor, Karan Johar, Radhika Madan, and Manish Paul, arrived at the premiere of Bawaal. After watching his sister Janhvi's film, Arjun Kapoor told how he liked the film and also reviewed her performance.
The Half Girlfriend actor wrote on Instagram stories, "I enjoyed the film a lot. It's a unique and very interesting film. It has a heart soul and a whole lot of entertainment yet it makes you wonder about relationships and life. That's how simple it is. Varun and Janhvi have their career best here. This one will be remembered for all the right choices."
Karan Johar's Bawaal review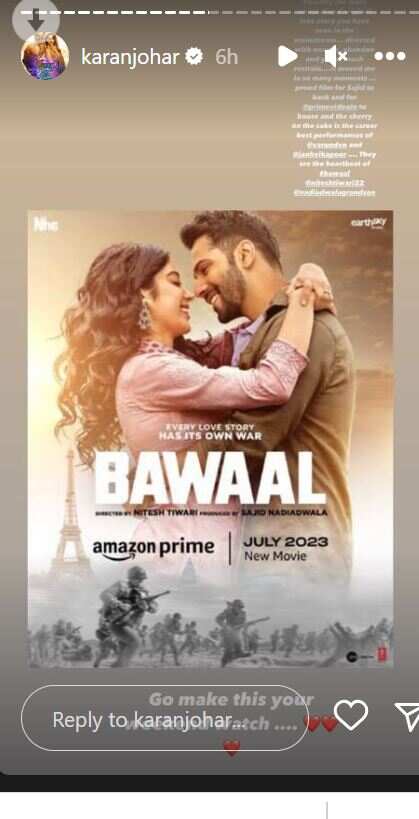 Karan Johar, the director of Rocky and Rani Kii Prem Kahaani, has also liked the film. He said in his review that Bawaal is the most original love story ever seen in the mainstream. "It has been directed with finesse." He also called it the best performance of Varun and Janhvi's acting career.
Varun Sharma wrote that simple things have been shown in the most beautiful way in Bawaal. He also credited the makers for the lessons. He called Janhvi and Varun's performance nuanced in Bawaal. Manish Paul also congratulated the cast and makers of the film. And wrote that he loved Bawaal. Actor Radhika Madan called Janhvi earnest. She also credited the lead actor for showing her vulnerability as an actor in this film. Like other celebs, Kunal Kohli also liked the film.